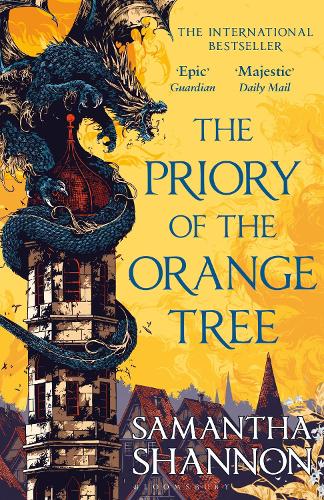 The House of Berethnet's thousand year rule is all that has kept the Nameless One, a powerful dragon with an army of wyverns and wyrms at his disposal, locked away in the Dreadmount. Pressure is mounting on the current queen, Queen Sabran the Ninth, to give the West an heir and continue the protection of her realm. Assassination attempts are creeping closer and closer but Ead, a mage disguised as a lady-in-waiting, is silently thwarting them all, leading to rising suspicion of her identity at court.
On the other side of the world, scorned by the the pious West of Vituodom for their worship of water dragons, is the Eastern lands of Seiki and Mentendon. There, Tané has been training her whole life to be a rider. On the eve of her acension, a mysterious outsider stumbles out of the surf and puts everything Tané has worked for in jeopardy.
I do not sleep because I am not only afraid of the monsters at my door, but also of the monsters my own mind can conjure. The ones that live within.
I've put off reading this for far too long. I was daunted by its size – a huge 850 pages – and although it took me a few weeks to get through, it didn't feel like it at all, and that's nothing to do with the whole confined-to-our-houses thing. It really was a quick read for its size.
The beginning did feel somewhat all over the place, as several major characters are introduced but their locales mean their stories are (initially, apparently) entirely separate. It's not a bad thing, and the book is better for it in the end, but I did have a couple of moments where I'd groan when returning to a particular character's narrative, or trying to remember who's who. Hint: I know it's a monster, but I wish I'd read the hard copy of this in order to easily refer back to the maps, character listing, and glossary, aka the golden triangle of high fantasy publications.
The book (or maybe not the book, but me) suffers from that high fantasy trope of character and place names that either sound really clunky, or you have no idea how to pronounce them and so everytime you read it, your brain just goes fehbfenjxdaue. Or, maybe that's just me. That said, all my tiny reservations and confusions at the beginning were quashed once I got further into the book and found all these narratives weaving together seamlessly. It didn't feel at all forced, or like, 'Oh, how convenient!'
The pacing was perfect too, which brings me to my favourite bit of the book; the slow burn sapphic romance. MY GOD. I never read romance – to be quite honest, it tends to put me off a book – but this was perfection. The fact that I could see it building made it all the more satisfying when it finally happened, like, YES! Ugh. So good.
Honestly, the book is worth reading just for that, but its also just the perfect book to get all of your high fantasy kicks in one place. A few other quick points: all-round great story, never boring, badass women, great representation. In short, GRRM could never.*
Rating: A very high 4 / 5 stars.
* I'm (half) joking, I stan, please give me
Winds of Winter
.