Hogwarts House Battle is another Harry Potter-themed readathon that I'll be taking part in! So the NEWTs Magical Readathon is coming to end, and despite previously saying I like to take some time off in between readathons, I've enjoyed NEWTs so much that I've decided to do another readathon straight after, beginning September 1st!
The Hogwarts House Battle readathon was created by Katie of Book Marked and takes place from September 1st to September 30th. You can find all the details on the Twitter page, but the idea is to read as much as possible during the month (duh!), with each page read counting as one point for your Hogwarts house. There are prompts inspired by the Hogwarts classes too, so if you read a book that fits those prompts, you get an additional 50 points! You can also earn 100 points by reading specially chosen books assigned to each house – for example, the pick for Slytherin is Wilder Girls by Rory Power. There will also be as-yet-undisclosed weekly tasks on Twitter that grant you 150 points. You track all of your reading on the spreadsheet created by Katie so that house points can be tracked and calculated.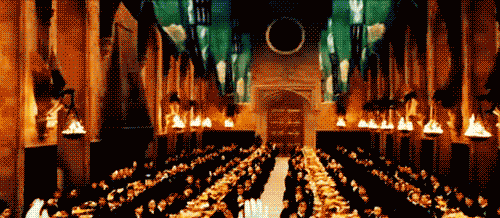 For the classes worth 50 points each, there are fifteen prompts in total. I definitely cannot manage that many books in one month, but I've made a tentative TBR covering every prompt anyway. I'm planning just to mood-read within these fifteen books and just see how many pages and points I manage at the end! Unlike the Magical Readathon, the focus is on the number of pages read, rather than the number of books, so I might use this month to knock some of those bigger books off of my TBR!
Prompts and Books
Alchemy // New Forms // A recommendation
The Long Way to a Small Angry Planet by Becky Chambers. This was recommended by Isabelle @ BookwyrmBites who raved about how great the whole series was! 404 pages.
Ancient Runes // Ancients // A classic
The Beauty Myth by Naomi Wolf. This is kind of considered a feminist non-fiction classic, so I'm going with that as I don't have any classics in the traditional sense on my TBR. 368 pages.
Apparition // Teleportation // Only read in public
Straight: The Surprisingly Short History of Heterosexuality by Hanne Blank. I picked a shorter book so that I can get through this quickly on my commute. 288 pages.
Arithmancy // Numbers // Number(s) in the title
The Seven Deaths of Evelyn Hardcastle by Stuart Turton. I had a couple to choose from but I'm most eager to read this one. 512 pages.
Astronomy // Under the Stars // Only read at night
A Girl is a Half-formed Thing by Eimear McBride. Again, as I'm limited to reading this at a particular time, I've gone for a shorter book from my TBR. 203 pages.
Care of Magical Creatures // Beasts // Animal on the cover
The Pisces by Melissa Broder. I feel like this is constantly on my 'next' pile but always gets pushed back. I'm determined to read it this month! 288 pages.
Charms // New and Unexpected // A new-to-you author
Foe by Iain Reid. I've never read anything by Iain Reid but this looks really good. 261 pages.
Defence Against the Dark Arts // Can't Last // A previous DNF
East West Street by Philippe Sands. I DNF-ed this in June but I'd like to give it another shot. 384 pages.
Divination // The Future // A predicted 5-star read
So You Want to Talk About Race by Ijeoma Oluo. This is the highest rated book on my TBR so that's definitely a good sign! 248 pages.
Flying // Fly High // Most anticipated
The Binding by Bridget Collins. I don't know what my most anticipated book is right now but this was definitely top of the list at the start of the year. 437 pages.
Herbology // Caring // A book that means a lot to you
Crossfire by Malorie Blackman. This was hard to pick – unless I re-read something, how do I know whether a book means a lot to me before I've read it? However, I loved the Noughts & Crosses series as a kid so getting to return to the series now is really special. 496 pages.
History of Magic // Historical // From another generation
Bright Young People: The Rise and Fall of a Generation 1918-1940 by D. J. Taylor. It literally has generation in the title! 322 pages.
Muggle Studies // Blending In // A hyped-up book
Eleanor Oliphant is Completely Fine by Gail Honeyman. This book was huge last year (the year before? I don't remember) but I never got around to it. I'll see if I have time this month. 385 pages.
Potions // Mixing // A genre you wouldn't normally read
To Obama: With Love, Joy, Hate and Despair by Jeanne Marie Laskas. This isn't necessarily a genre I wouldn't normally read, but as the book is a collection of letters, it's a structure that I don't often come across. 401 pages.
Transfiguration // Change // Last book you bought
The Girls by Emma Cline. I bought a bunch of books last month – I did a big secondhand book haul – so I picked one from that bunch that I hadn't already read or delegated to another prompt. 368 pages.
That's a whopping 5,365 pages in total! I usually manage around 2,100 pages a month so I definitely won't be reading all of these, which is great as it allows me to mood-read a little. My top priorities are Crossfire and To Obama as they're NetGalley books that I want to tick off; The Long Way to a Small Angry Planet because I've heard SUCH good things about it recently; and The Pisces because it's been on my list for so long! Just those four would get me to a total of 1,589 pages and 1,789 points for Slytherin!
Are you taking part in the Hogwarts House Battle?