Small Screen Saturday will be a twice-monthly post where I DON'T talk about books! Instead I'll share with you some of the television series (and films too, occasionally) that I've been enjoying recently. They will always be things I've watched on TV or via streaming sites, hence the 'Small Screen' part of the title, and I'll let you know where I've been watching it too!
So, if you fancy a break from reading or need something new to binge, here's what I've been watching and loving the past couple of weeks!
The Umbrella Academy (Netflix)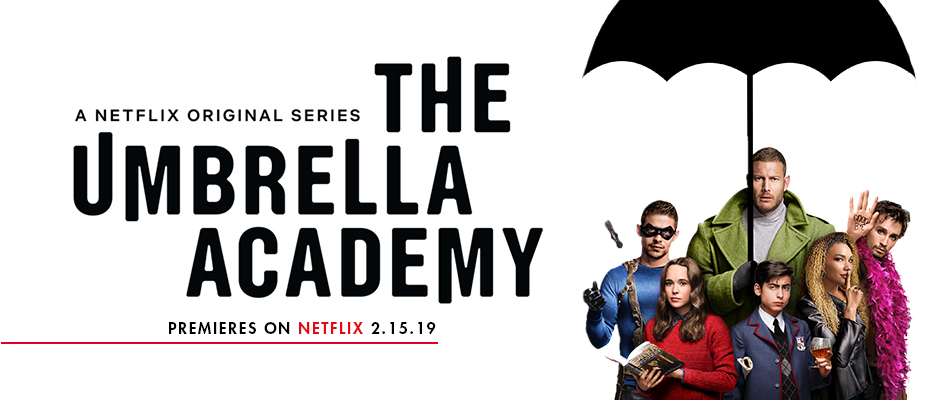 The Umbrella Academy has been an unexpected stand-out new show for me. I had no clue how much I was going to love it. It's based on a comic book written by My Chemical Romance lead singer, Gerard Way – isn't that a blast from the past?! The story begins in 1989, when 43 women suddenly give birth on the same day, having had no idea they were pregnant. An eccentric billionaire adopts seven of these children to form a team of crime-fighting superheroes known as The Umbrella Academy. Years pass and the team drift and disband, only to be drawn back together as adults by the sudden and mysterious death of their father.
I'm not a huge fan of superhero movies, comic books, etc. but I put this on during a lazy weekend at home and was instantly hooked. Robert Sheehan as the drug-addled, ghost-talking Number Four, aka Klaus, is an absolute DELIGHT, as are the rest of the characters. Assassins Cha Cha and Hazel are particularly great – Mary J. Blige absolutely kills it (no pun intended). I completely devoured this show up until the last episode, which I put off watching for days because I didn't want it to end. I'm already desperate for season two!
You can watch all the episodes of The Umbrella Academy now, on Netflix.
RuPaul's Drag Race (Netflix)
RuPaul's Drag Race is back for season 11 with fourteen new queens. The first episode was released on UK Netflix last Friday (March 1st) and already I have a couple of favourites. The viral sensation that is Vanessa Vanjie Mateo is the first queen into the workroom. I'm so glad she's back! From episode one she stands out as one to watch. I'm excited to see what the rest of the queens turn out in the coming episodes.
New episodes of RuPaul's Drag Race are released every Friday on Netflix UK.
The Passage (FOX UK)
The Passage is a long-awaited adaptation of one of my favourite series, The Passage Trilogy by Justin Cronin. The series follows a young girl named Amy Bellafonte and spans over 1000 (!) years. Amy is captured by a top-secret government team who are experimenting with a virus that causes its hosts to develop a form of vampirism. As the virus spreads and causes mass devastation, only Amy can protect humankind.
I love these books and I've been really pleased with the adaptation. The cast is fantastic, especially Saniyya Sidney as Amy. I love seeing the development of Amy's relationship with Brad Wolgast, played by Mark-Paul Gosselaar (Zach from Saved by The Bell! Another blast from the past…). The show has made a few changes to the original text but they've made for really interesting viewing so far.
You can catch The Passage on FOX UK at 9pm on Tuesdays.
One Day at a Time (Netflix)
One Day at a Time is such a wonderful yet underrated show. It follows a Cuban-American family and deals with some really heavy topics in such a brilliant way. Penelope is a single-mother with PTSD from her time in the Army, trying to raise two teenagers with the help of her indulgent Cuban mother and the frequent (often unsolicited) advice of their privileged yet dysfunctional landlord.
Looking for a diverse show that addresses important social issues without making you feel like the entire world is doomed? This is absolutely the one. I truly don't think I've ever made it through an episode without laughing out loud and crying. Season three has just been released so if you've never seen the show, there's plenty to catch up on!
Season three of One Day at a Time is available now, on Netflix.
What have you been watching this week?