Small Screen Saturday is a twice-monthly post where I DON'T talk about books! Instead, I'll share with you some of the television series (and films too, occasionally) that I've been enjoying recently. They will always be things I've watched on TV or via streaming sites, hence the 'Small Screen' part of the title, and I'll let you know where I've been watching it too!
I've had a really busy couple of weeks so I haven't had a chance to watch more than a few episodes of each of these news shows, but I'm really excited by what I've seen so far. Here's what's been on my radar recently:
Hanna (Amazon Prime)
Based on the 2011 film of the same name, Hanna follows the story of a young genetically engineered girl, raised in the wilderness by her tough father-figure and then hunted by the CIA agents that created her as she seeks the truth about her identity. Joel Kinnaman is one of my favourite actors, I watch everything he does. I originally saw him in The Killing, with Mireille Enos, which has become possibly my favourite ever television series so when I heard that Kinnaman and Enos were lined up to play two of the main characters in Hanna, I knew I had to watch it. I've only watched a handful of episodes, and although the first episode gets off to a slow start, it soon picks up. I love the relationship between Hanna and Sophie and I'm looking forward to seeing it develop and for Hanna and her father to be reunited!
Hanna premiered on Amazon Prime with eight episodes on March 29th.
Chilling Adventures of Sabrina (Netflix)
Half-witch, half-mortal Sabrina Spellman tries to balance the demands of her satan-worshipping coven with all the usual ups and downs of teen life. This is way darker than the beloved 90s show, Sabrina the Teenage Witch. When the first season started I had reservations about it, but I got sucked into Sabrina's demonic world fast. It's creepy and dramatic and at times gruesome, but I really love what the creators have done with the source material to make it fresh for a new generation. Kiernan Shirpka is amazing as Sabrina, and I love the addition of Chance Perdomo as Sabrina's everso stylish but housebound cousin. I've only had a chance to watch one episode from the part two, but I'm really excited to get back into this show for a second season.
Season two of Chilling Adventures of Sabrina was released on Netflix on April 5th.
On My Block (Netflix)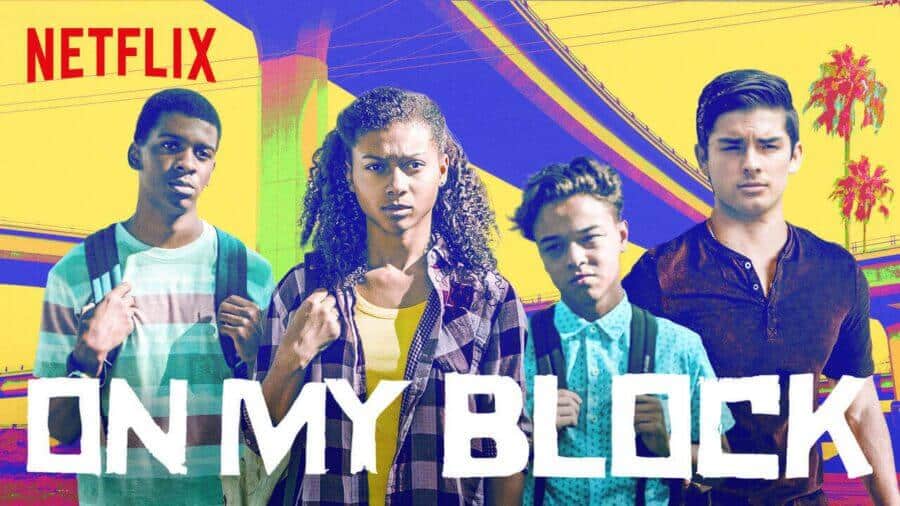 If you're still mourning the loss of One Day at a Time, then check out Netflix's On My Block. The show follows a group of teen friends who are all dealing with the pressures of growing up in South Central LA. Monse is trying to find out about her mother, Cesar battles with gang pressures, Ruby is falling in love for the first time, while Jamal is busy hunting for a hidden stash of cash that everyone believes is an urban myth… The show is funny, sweet, and diverse. It's predominantly comical but also deals with also really serious issues and does so really well. Season one ended on a huge cliffhanger so I'm so excited that the new season is out, and it's already off to a great start. I'm hoping that it doesn't end on another shocking cliffhanger, and I really hope that Netflix doesn't can another brilliant and diverse show before its time.
Season two of On My Block was released on Netflix on March 29th.
What have you been watching this week?