Danni @ ForBooksSake tagged me to take part in this festive tag! I know I'm a little late with this one, but December really got on top of me – I was reading a fair bit but had no time to blog, so I've been catching up with everyone's posts these past few days! I hope you'll forgive me for extending the Christmas spirit just a little longer…
This tag was originally created by Charleigh Writes. As we're at the tail end of the Christmas season, I'm not going to be tagging anyone, but if you do choose to also do this tag, please link back to Charleigh Writes! Oh, and you can't use the Harry Potter books for your answers!
It's your first Christmas at Hogwarts. What's one book you've asked for this year?
Every year I send a long Amazon wishlist to my family and let them choose from there! There wasn't any in particularly that I wanted more than others though.
You spot Hagrid hauling the Christmas tree through the grounds. What is the longest (or heaviest) book you own?
Probably The Romanovs by Simon Sebag Montefiore. I have it in hardback and at over 700 pages, it was relegated to bedtime reading only – no cramming in a few pages on the tube!
It's time for the famous Great Hall feast. What's one book you can't read without snacks?
I don't know, I'm not much of a book snacker, I prefer to save my snacks for Netflix binges.
Well done, you've brewed your first Polyjuice Potion. What's one book you'd change the cover of?
I love Middlesex by Jeffrey Eugenides but originally read it on Kindle. When I finished it, I knew I wanted a hard copy, but I don't like any of the covers so I haven't bought it yet.
You receive a brand new Firebolt for Christmas. What's one book you read super quickly?
I read Why I'm No Longer Talking to White People About Race by Reni Eddo-Lodge much quicker than I normally read non-fiction.
You join Harry for his first proper Christmas. What's one book you'd love to receive this year?
There wasn't one in particular I was hoping for, but I was the most pleased with my special edition of The Dutch House by Ann Patchett – the sprayed edges are so pretty!
You get hit by one of Fred and George's flying snowballs. What's a book you wanted to throw across the room?
Most recently The Pisces by Melissa Broder.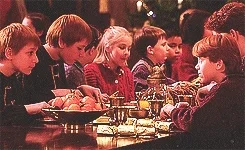 You've just visited Hogsmeade for the first time. What's one popular book you haven't read yet?
Eleanor Oliphant is Completely Fine by Gail Honeyman has been on my list, for ages, I just haven't gotten around to it yet.
Congratulations, you've been invited to the Yule Ball. What book about Christmas do you love?
I don't read anything particularly festive at Christmas time! I'm always too busy trying to read the final couple of books I want to before the year's out.
You find Ron's deluminator. What's one book that's helped you through some dark times?
I don't have any book in particular that I turn to, I'm not a big re-reader.
I hope you've all had a magical Christmas!